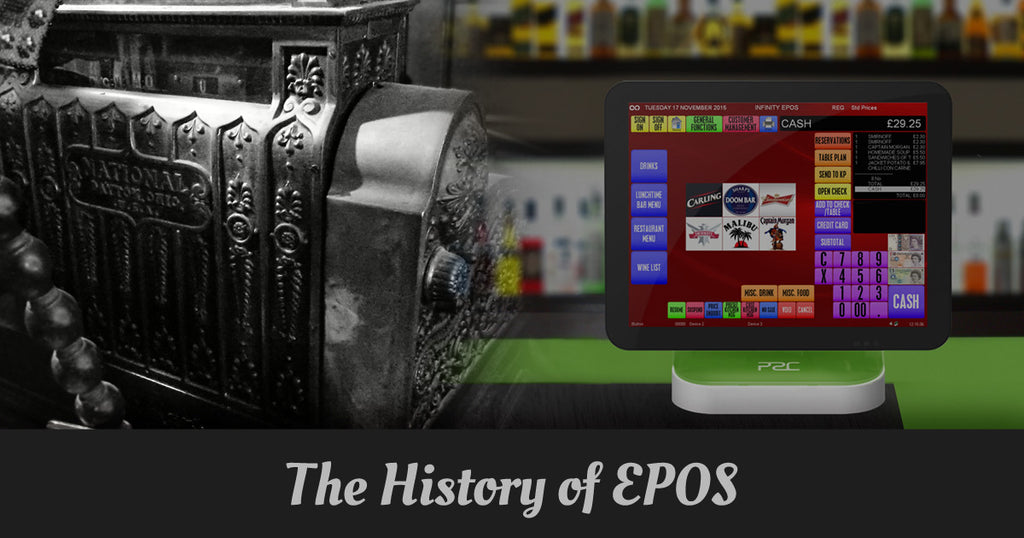 From Paper to POS - The History of EPOS
EPOS systems have become a must have for all retail and hospitality businesses, but how did we get from simple pen and paper transactions to the sophisticated, feature rich electronic point of sales systems we use today? Let's look at some of the key turning points in point of sale history.
| | |
| --- | --- |
| 1879 | James Ritty patented the first cash register named "Ritty's Incorruptible Cashier". James Ritty was a saloon owner who often had trouble with his employees pocketing money from customers. Working together with his mechanic brother John Ritty, it took them 3 attempts to successfully build the machine. |
| | |
| --- | --- |
| 1884 | John H. Patterson bought the patent and the company after having successfully tried several of the machines in his stores. He renamed the company 'The National Cash Register Company' and Patterson pressed on to create more secure and reliable machines.  The National Cash Register Company was the most successful cash register company from the late 1890's to the early 1900's. |
| | |
| --- | --- |
| 1973 | IBM released the IBM store system with 2 available models, the 3650 and the 3660. The store systems were basically mainframe computers that could control up to 128 IBM point of sale registers.  |
| | |
| --- | --- |
| 1974 | The first microprocessor-controlled cash register system was built for McDonald's Restaurants. It used the Intel 8008 microprocessor. Multiple devices were used in each restaurant and each device could display an entire order for a customer. |
| | |
| --- | --- |
| 1986 | Gene Mosher introduced the first graphical point of sale software with a touchscreen display under the trademark 'ViewTouch'. The software was used on the 16-bit Atari 520ST and featured a widget-driven interface that allowed configuration of widgets to represent menu items without low level programming. |
| | |
| --- | --- |
| 1992 | Martin Goodwin and Bob Henry created the first point of sale software that could run on the Microsoft Windows platform named IT Retail, paving the way for today's EPOS advances. |
EPOS systems have come a long way in such a short period of time. With many different systems on the market and a huge range of features available, an EPOS system can do most of the hard work for you, from stock control and reports to employee timetables and customer memberships!