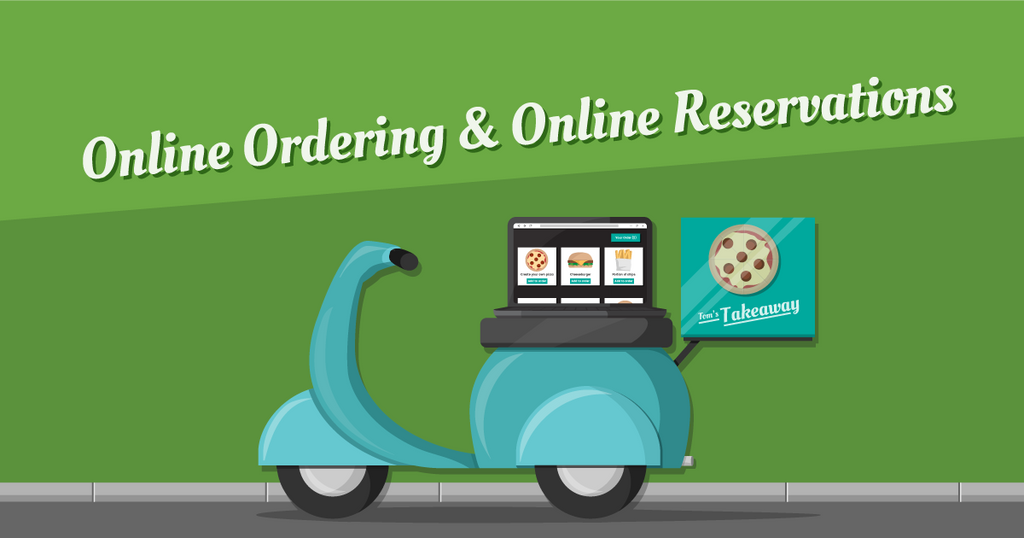 Online Ordering & Online Reservations
It's no secret that online shopping has grown massively over the last few years but takeaways have also seen a large rise in online ordering. Currently, it's estimated that around 6 out of 10 customers place orders over the phone but website ordering is forecasted to overtake phone ordering in the near future. Giving customers the option to order food online is a huge benefit to any takeaway business regardless of size.
With an online ordering solution, customers can order meals through your very own website that will be designed and set up for you to suit your needs. Customers can browse your menu at their leisure and make choices and changes without taking up any of your valuable time. The order process is completely automated. Orders placed on the website are sent straight to the kitchen printer for preparation and once an order is marked as complete on your EPOS system, the customer will be notified that their order is out for delivery or ready for collection.  Your website will also be completely secure and offer cash on delivery, debit/credit card, and PayPal payment options for complete peace of mind and flexibility.
Delivery zones can be set to ensure customers are paying the correct delivery charges and, of course, customers living outside of the zones won't be able to place orders so there's no worry about delivering outside of your delivery area. Customers can choose a desired delivery or collection time whilst ordering, these are calculated based on how long it's currently taking you to update the status of an order. Worried that you might get overwhelmed with too many orders at once? Don't panic! You can instantly stop online ordering and add a notice saying you're currently too busy to take orders. When your kitchen has calmed down, you can simply remove the notice and continue taking orders again.
The best part is, unlike other online ordering providers, there are no order commissions! You get everything for just one monthly fee.
Call us today for more information on our online ordering solution

01792 447266
---
Do you have a restaurant and want to take table bookings through your website?
With our online reservation solution you can! With a reservation form on your website, customers will be able to reserve tables by inputting their name, number of guests, date of visit and time. The system will then automatically assign an appropriate table for the party based on your predefined table plan. The booking is linked to your table plan on your EPOS system so there's complete synchronisation between online and offline bookings with no risk of double booking.
Online reservation doesn't stop when your kitchen stops, the reservation form on your website will keep running day and night without needing any input from you or your staff so you will never miss out on a reservation whilst your restaurant is closed. Make sure you set your restaurant opening and close times to ensure customers can only book meals at times when you're open!
Call us today for more information on our online reservation solution

01792 447266
---