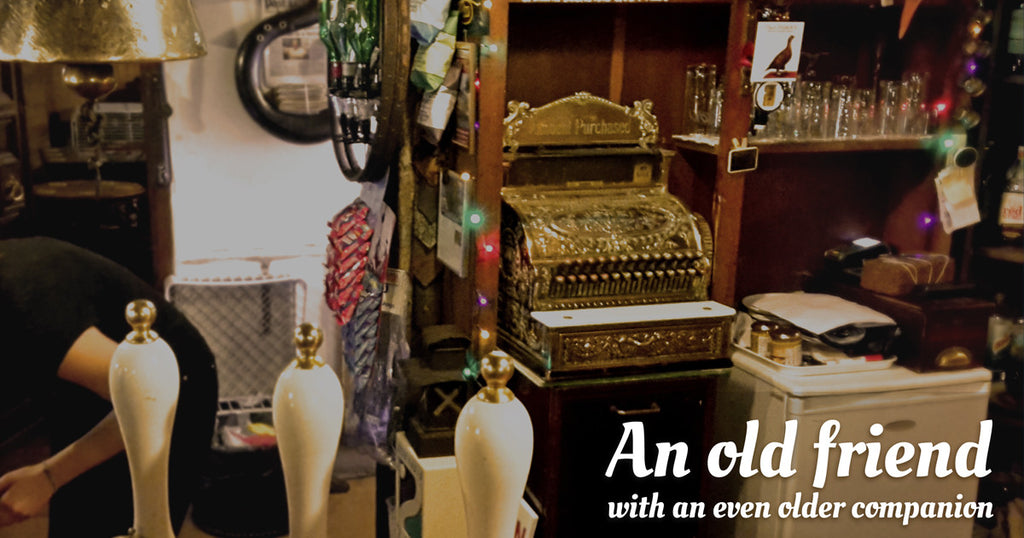 An old friend with an even older companion
Whilst on my usual travels, I happened to be in Stoke for a couple of nights. A friend living up that way sent us a message and said that he would take us somewhere unique and like no other pub we'd been to before. I was understandably apprehensive to begin with but thought, "Well, worst case scenario I've more than likely been into worse."
After about a quarter of an hour drive into greener and greener pastures, we came upon a pub that really did make us realise why the word 'unique' was being used...
We were welcomed into The Yew Tree Inn, Cauldon, by the pub's Citroen Dolly parked outside. Walking in, a trove of treasures, more than I could possibly have understood what each was, were in each and every corner. After a quick little tour, upon closer inspection of a couple of items, we discovered no less than 3 pairs of Queen Victoria's 'authenticated' stockings, multiple old instruments, firemen's helmets, antique rifles, cannons, swords, and of course an old 60s Teddy Boy scooter, and a plethora of others. Blossom the dog was casually chilling out on her favourite pew - the one from 1714.
The tuppenny jukebox, along with one of the first ever clocking in machines made by ITR (later to become IBM) were all of significant interest of course.
"What does this all have to do with price of cheese?" I hear you cry. Well, as a self certified 'point of sale' geek, as I went to pay for our (very well priced) beers, I saw what was for the first time in my life, an actual first edition NCR cash register in use and being used today as it would've been back in the early 20th century.
It truly is a work of art and just goes to show that 100 years on, quality will stand by you no matter what.
It just seemed to fit, and when I sheepishly asked the landlord if I could take a picture of his cash register as I had quite an interest in the history of them - a move that gave him a nice 10 minute lecture on what nobody else will give me 1 minute to bore them with - he let me know that not only did he have this original NCR, but there was one more out the back just gathering dust. I was intregued and led to the side room to be greeted by this beauty.
This is the first and possibly last time that I've gone into a pub and come out with more cash registers than when I went in...
So not only was my Sunday afternoon brightened up by having a lovely couple of ales in the most unique pub that probably exists, but I now hopefully know where to send Santa in the run up to December. Watch this space folks - as in the space to the left of my office desk, next to the window.